Knowledgebase
Nothing happens when I run TO3000
Posted by - NA - on 10 November 2009 03:52 PM
Similar problems usually occur if the program is blocked by antivirus and/or firewall software.

We suggest you add TO3000 to a whitelist/trustlist of your antivirus and firewall software.
Then, try to launch TO3000 once again using administrator mode. For this, please right-click on the shortcut and select Run as administrator.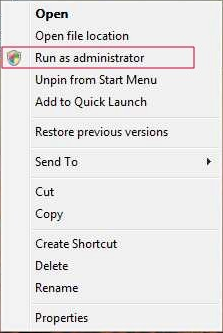 You can also enter "Properties >> Compatibility" and check "Run this program as an administrator" so that the shortcut always launches it in Admin mode.
---